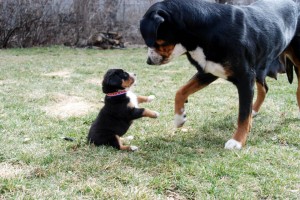 We require all future owners of our puppies to fill out a puppy application. We like visits but we do ask that you have filled out and turned in an application BEFORE scheduling an appointment to come meet us and our dogs.  To fill out the application, click this link: Blue Hill Puppy Application and click "save" or "open with".  Once you have downloaded it and have filled it out, please email it back to us at: bluehillswissys@gmail.com Thank you for taking the time to answer our questions, not only does an application help us to "vet" future owners but when it comes to placing puppies we review these questions to help us make more informed decisions. Please be open and honest, and feel free to return the favor, we are happy to answer any questions you might have about our dogs, our program etc. Thank you and we look forward to hearing from you!
                                                                                       You can also mail it us at:
Megan & Ray Lewis
840 n 610 e
American Fork, UT 84003
If you have any questions about our application, please don't hesitate to contact us!
Phone: 801-494-4604
Email: bluehillswissys@gmail.com
Facebook: https://www.facebook.com/bluehillswissys/