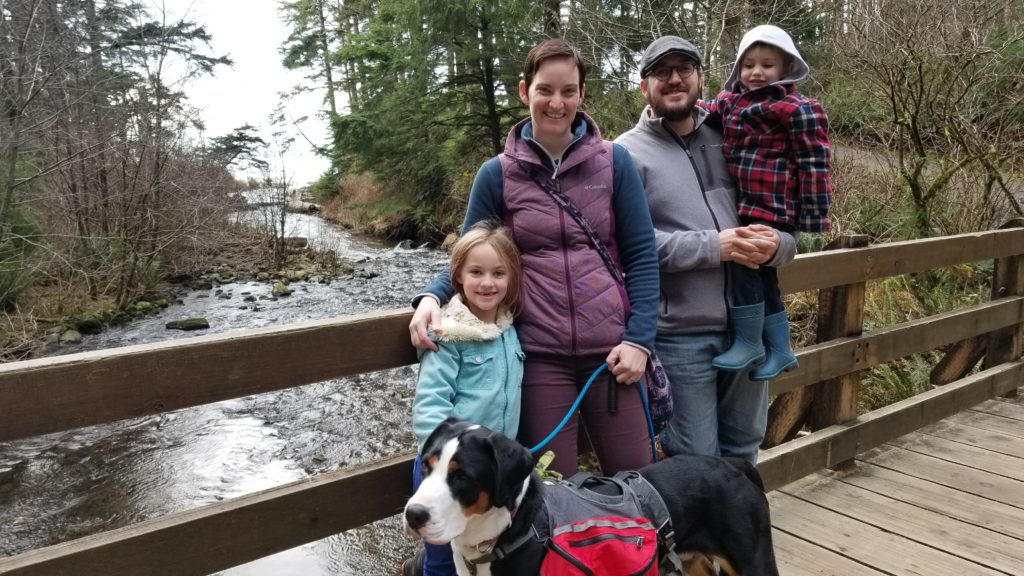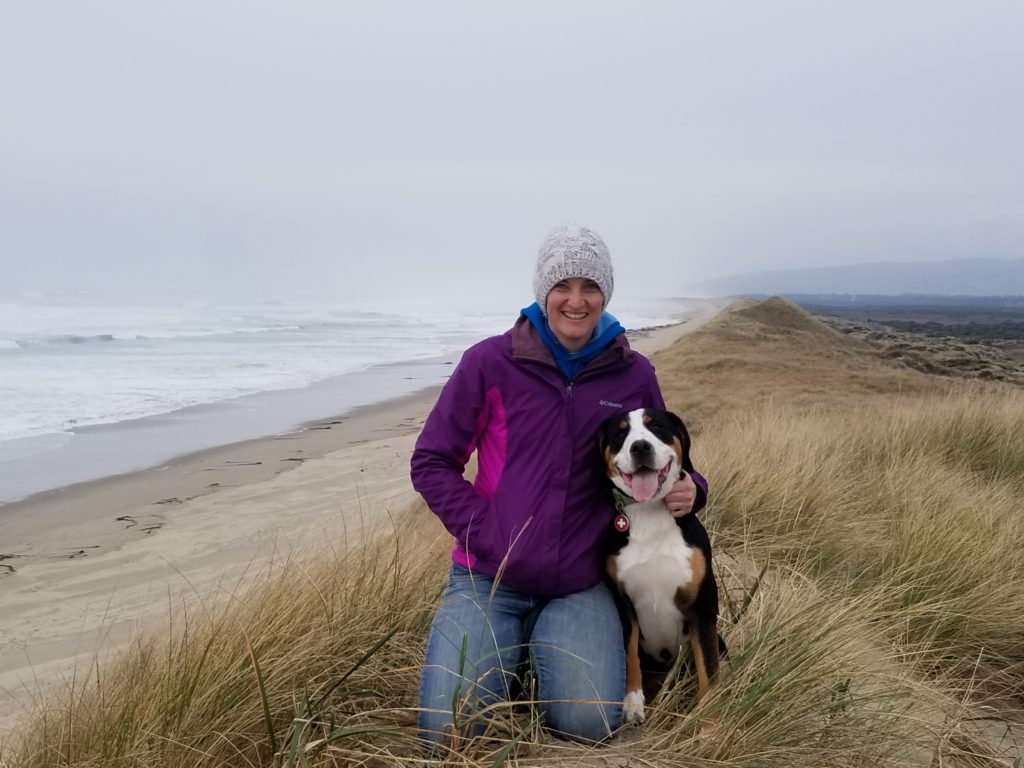 This is the story of how we fell in love with Greater Swiss Mountain Dogs. Both Ray and I have always had and loved dogs. We were both raised with medium to large breeds, mostly Labs but with a Husky, a Bloodhound, an Australian Shepherd, and some mixes thrown in here and there. I (Megan) have always loved the "big" animals. I've built my professional career around big horses, Percherons and Belgians mostly, and of course, always gravitated to the large dog breeds as well. When our first child (Rory) arrived I switched gears and horses became my hobby and dogs took the spotlight. I train professionally off and on and am a stay at home mom full time.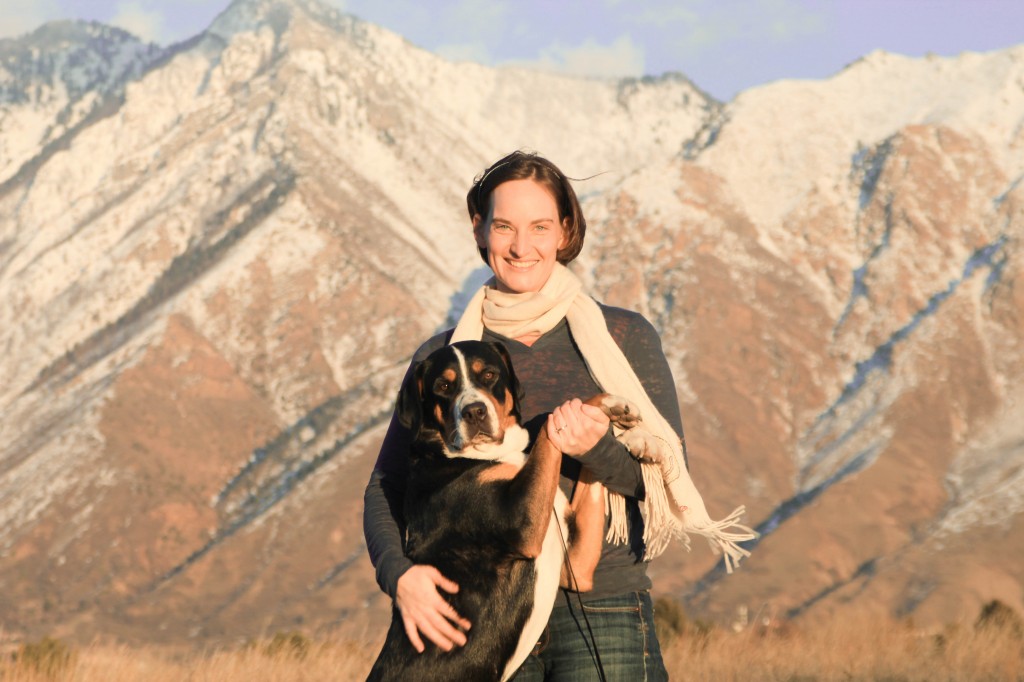 When we got married I told Ray that I wanted big dogs. We met because of our first dog, Jim (Choc Lab/Pitt mix), so this was no surprise to him. One of the breeds ('one' being the key word) that I thought I was in love with was the Bernese Mountain Dog. I had read all about them, met a few in person and I was convinced that those were the character traits I wanted in our next dog. Ray, however, is not particularly fond of long hair so he vetoed that Berners and Newfies, but I never stopped secretly wishing for Tri-color. I did, however, give in and moved on temporarily to other breeds (Mastiffs, Danes, Weimaraners) and in a moment of emotional weakness 🙂 I ended up bringing home the most adorable blue eyed pudgy Chocolate Lab/Weimaraner
puppy who we named Remus. I had not yet fallen into the world of purebred dogs. With a new puppy and my thoughts turning to training said smooshy lump of brown dog, I discovered and latched onto a local dog trainer named Bethany Tracy (Wasatch Canine Camp). She was kind and did not tell me to get lost but took me in and became my go-to dog guru. Around this same time Ray decided he had found just the dog that we needed (like we 'needed'  more). He proceeded to show me a few pictures of Swissys and indeed I was smitten. I started researching and reading all I could find about them. I was in love with the idea of my dogs pulling my children around in a cart. I swooned over the thick robust size. I drooled over the beautiful markings and colors. I liked the idea of a big watchdog who was really an oversized teddy bear. My Berner love affair was history and I've never gone back, having realized through my experience training that I would have never lasted as an owner of a moving fluff ball. Having worked on farms for years I was so excited about an all-around farm dog that could and would earn its keep. I had never seen one in real life and could not find any nearby so I resigned myself to a good long wait before the dream became reality. All of a sudden people around me started feeling the Sennenhund bug. Bethany and her husband acquired their first Berner and another friend got an adorable Berner puppy and then BAM! It was nearing Christmas time, Remus was a year old and suddenly there was an older Swissy puppy available… be still my heart! She was 5 months old… the next thing we knew, we were driving out to the middle of nowhere, and oops, came home with dog #3, the lovely Cinna. 4 1/2 years later crazy miss Hazel joined our family and she most definitely hasn't been and won't be the last. These two brought me into the world of dog fancy. Showing, sports, clubs, activities, the works, all things Swissy, count me in. Tri-color for life! I started learning all I could about why to breed purebred dogs, what the purpose behind preservation breeding is and how important genetics, sport, form, and function etc are. There is so much more to breeding dogs than I knew, or even fathomed to know. We are a baby kennel, young, learning, making mistakes, learning from others mistakes, trying to be better, moving forward. I have developed relationships with some amazing people who have been willing to mentor, guide, advise, and support me. I am eternally grateful for them and all they do for me.
The rest is, as they say, history. We are in love. Everything about the breed is awesome and unique. So here we are and we are so excited to bring you along with us.
bluehillswissys@gmail.com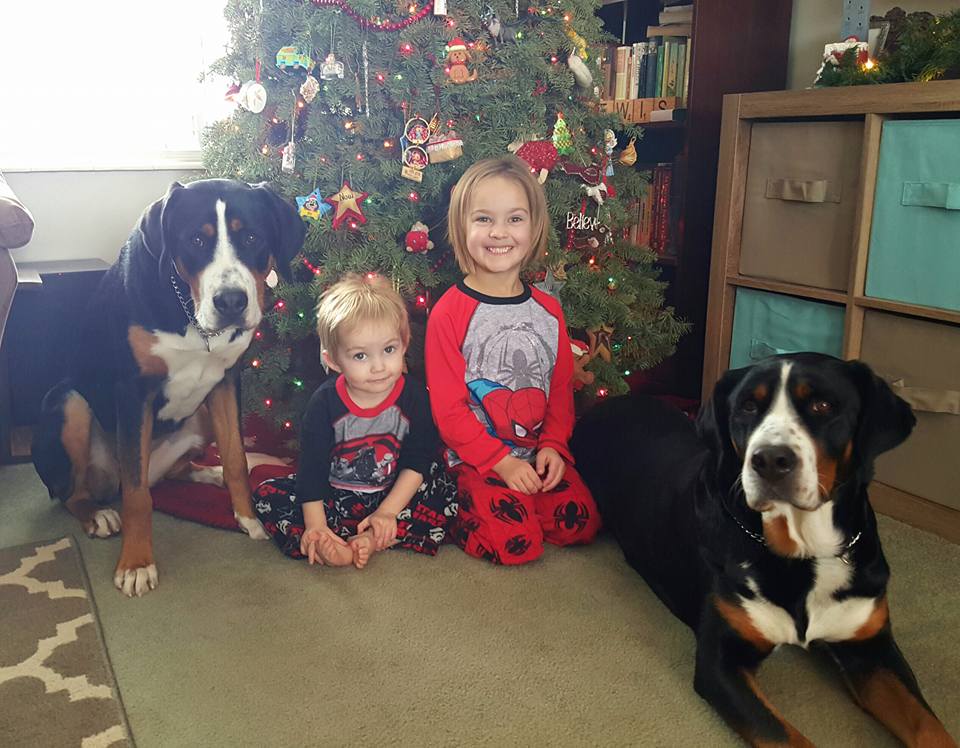 Why "Blue Hill"?
Blue Hill is the name Ray and I have always wanted to call our farm, our own patch of Heaven. The name originates from my favorite childhood book "Beauty" by Robyn McKinley. It is a Beauty and The Beast retelling. In the story Beauty and her family re-locate from the city to the country to a little farm called Blue Hill. It is their refuge from the storm of life, and signifies respite and new beginnings. It is an idyllic place which backs up to an enchanted forest and has its very own brand of magic that helps the characters in the book become the best versions of themselves. Magic, beauty, safety, family, hope, strength, and love are some of the things Blue Hill means to us and are all things we hope our dogs mean to those who take them home to stay.